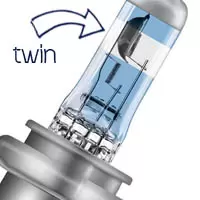 You'll find that in some headlights there will only be one bulb. This is what we call a single headlight system. The bulb being used has a twin filament, meaning one bulb works for both the low and high beams. For the majority of the time, the bulb in question is a 9003 (HB2/H4) fitting, but there are some other rather uncommon twin filament bulbs out there too.
Twin headlight systems will use two separate single filament bulbs for the low and high beams, meaning four bulbs in total are needed to replace the low and highs in each side.
The pros and cons to each of these systems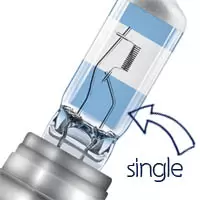 Having a single system in place means you can replace both beams in both headlights with just two bulbs, which is great! This saves on both time and expenses. It is reported, however, that twin filament bulbs are not quite as effective in comparison to having two separate bulbs each doing their own job.
This is the reason why some lighting-conscious people prefer to have a twin headlight system in place, to get the best performance. The downside with twin headlights is you need to buy and install double the amount of bulbs to make a full replacement of both beams.
In summary, if your vehicle uses single filament bulbs such as H4 it will help save on time and money, whereas using two separate bulbs helps provide the very best results available.
Just to make things confusing, some models are made with both of these options available.
So, you may have the same car as the bloke down the road, but yours uses a twin filament bulb and his uses two single ones. That's why it is so important to know which yours uses when buying replacements and upgrades.
The best way to figure this out is to simply take a look at your headlight. Are there one or two bulbs?
Checking the vehicle handbook can also point you in the right direction, and, as always, although it can take a bit of effort removing the bulbs themselves, seeing what's in there is the best way.