Philips Ultinon Pro9100 LED
The Philips Ultinon Pro9100 LED range offers unparalleled quality lighting solutions. This is thanks to world-class engineering and the latest technology. These high-performance LEDs produce a beam up to 250% brighter than standard, with a 5,800K rating providing a cool, white light. Plus, with Philips' innovative manufacturing solutions, AirCool and AirBoost management systems help to protect your bulb's lifespan from extreme temperatures. They offer a sharp, accurate light projection to help you see clearly and give your vehicle an undeniably stylish look. Note: These bulbs are not road legal as they are not ECE certified, meaning you should only use these for off-road purposes.

Philips Ultinon Pro5100 LED
The Philips Ultinon Pro5100 LED range is another one of our best headlight bulb options. These bulbs provide a light projection that is up to 160% brighter than a standard halogen bulb. They offer a lifespan of up to 3,000 hours for longer-lasting quality. Accurate beam placement for far-reaching illumination means you can see clearer on the road. They are also suitable for most vehicle types. With a 5,800K colour temperature rating, these LEDs will also give your vehicle a touch of style that will stand out on the road. All in a simple, one-piece bulb design that can be easily installed in your vehicle.
Philips Ultinon Pro3021 LED
The Philips Ultinon Pro3021 also makes a great choice if you are looking for high-quality LED headlight bulbs. Packed with the latest technology, these bulbs feature a powerful 6,000K rating delivering a brilliant white light. What's more, this comes at no extra cost to the bulb's lifespan, as they last up to four times as long as standard halogens with up to 2,000 hours of use. With an all-in-one design, the Philips Ultinon Pro3021 LEDs are easy to install in your vehicle. There's no need to use external hardware to convert them, meaning you can enjoy a stylish, high-quality light projection even sooner.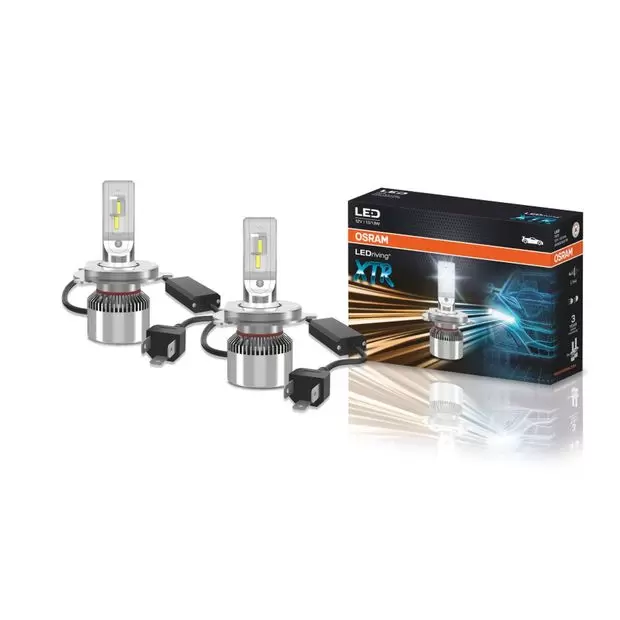 OSRAM LEDriving XTR
OSRAM LEDriving XTR LED bulbs incorporate the brand's latest technology.
They provide unbeatable high-performance, stylish lighting. Using innovative BeamGuide technology, this optimises the light distribution to provide a laser-focused beam with an enhanced projection. This delivers a striking, white light with a 6,000K colour temperature rating, giving your vehicle a distinctive road presence. It features a compact design for simple installation and delivers far better light output than standard. Note: Due to its extreme brightness, these bulbs are not road legal and are strictly for private, off-road purposes only.
Did you enjoy this article? Do you have any further information that we've missed? Please let us know via our Facebook page.