LED car bulbs are able to offer a brighter light output than halogen bulbs and come in a variety of different colours. These benefits, combined with impressive bulb life expectancies means that demand for LED bulbs is growing quickly and the market is expanding.
We have been successfully selling Original Equipment Manufacturer (OEM) quality LED bulbs for a long time and have recently added an exciting new collection of LED products to our range. We stock a huge range of interior LED bulbs that can also be used for sidelights and licence plates.
The new range of LED bulbs in stock are designed to offer brighter light, a longer lasting product, and some are specifically made to achieve a blue light output. Our collection includes the Philips X-treme Vision LED range and the Philips Vision LED range.

Philips X-treme Vision LED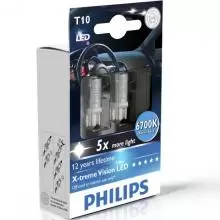 Philips X-treme Vision LED bulbs offer 5 times more light than standard bulbs, and have a lengthy life expectancy of up to 12 years!
We have these Philips bulbs available in the following fittings: W5W, Festoon C5W ,PY21W, P21W and P21/5W.
Philips Vision LED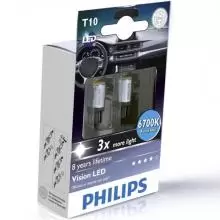 The Philips Vision LED are available in a W5W fitting and are a little less advanced than the X-treme Vision, but if you are wanting to spend a little less, then these might be the right choice for you. These bulbs offer 3 times more light than standard bulbs and have an average life span of 8 years. They are available in the W5W fitting in different colour temperatures including 4000K, 6000K and 6700K.

Too much choice?
We hope that you can find the LED car bulbs that suit your requirements but we'll be the first to admit that there is a lot of choice and sometimes it can be overwhelming! So, if you have any questions at all please give our helpful product team a call on 01924 334180, or email [email protected], and we'll do the hard work for you!