*Since this blog post, OSRAM have released Night Breaker Unlimited which replaces the Night Breaker Plus (featured in this post) Check out our most recent blog which compares the Philips X-treme Vision to the OSRAM Night Breaker Unlimited here.

This Philips X-treme Vision vs OSRAM Night Breaker Plus post sees our two most popular high performance car headlight bulbs going head to head...
The Philips X-treme Vision and OSRAM Night Breaker Plus car headlight bulbs are made by leading bulb manufacturers and are designed to combat low visibility during the night; they are popular choices for someone looking for a brighter halogen bulb.
Both bulbs are performance products and are designed to deliver as much light on the road as possible. This is intended to make for safer night time driving - the more you can see, the safer you are, and more light means more time to react.
Both products are halogen bulbs, which use xenon gas to add extra brightness without increasing the Kelvin Rating or wattage. This means that they do not generate any more heat than your standard bulb, hence remaining road legal.

Philips X-treme Vision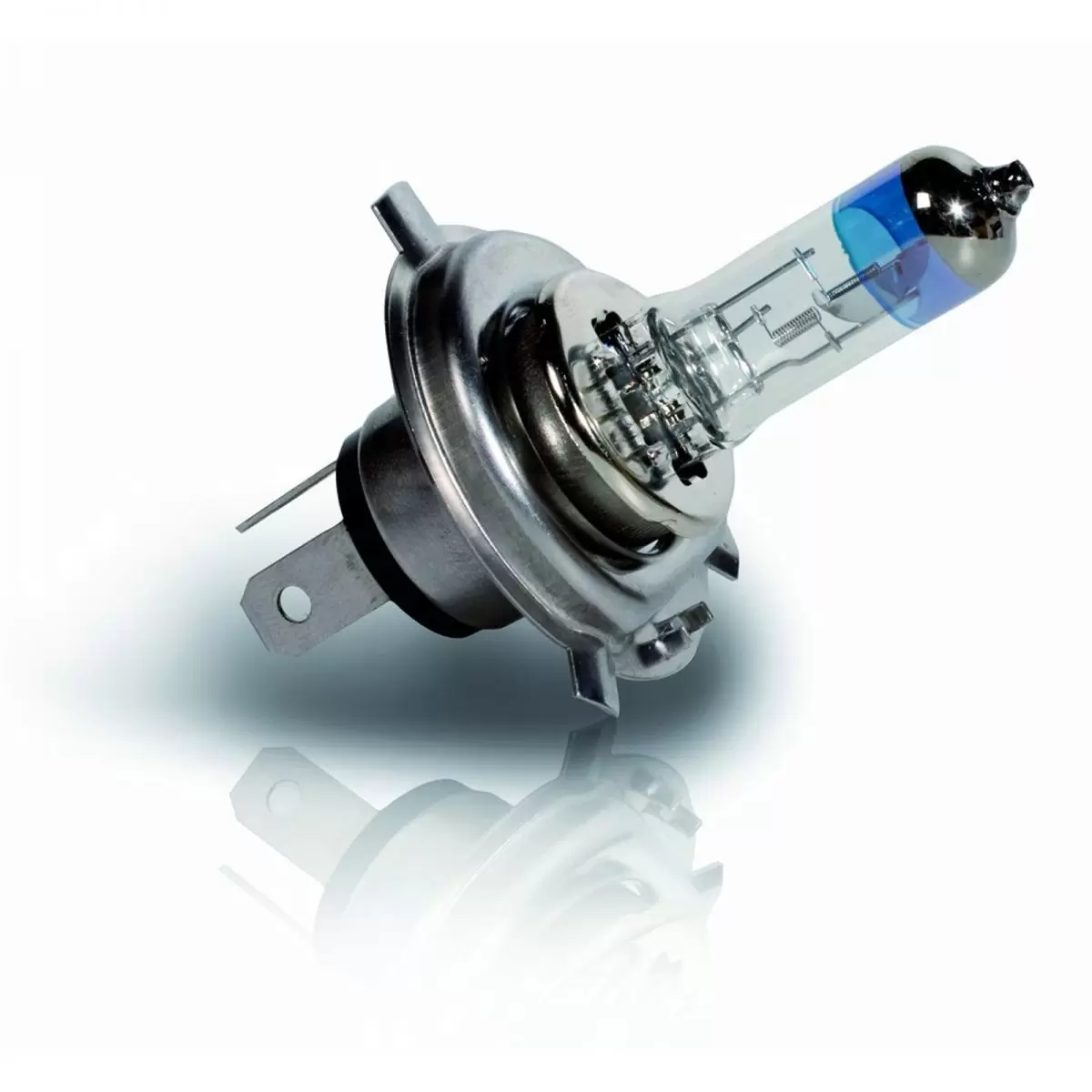 The Philips X-treme Vision is the replacement to the multi award winning Philips X-treme Power. The X-treme Vision bulb offers 20% more light on the road than its predecessor - that's a huge 100% more light on the road than a standard halogen bulb.
This bulb has both good performance qualities and good longevity with an impressive total life expectancy of 18-24 months. It has earned its name as the brightest halogen bulb and has won awards such as the Auto Express Review BEST BUY, November 2011.
Check out a couple of customer reviews for the Philips X-treme Vision bulb:
"X-treme was a little brighter than my Nightbreakers; it's no HID but certainly pretty good stuff as halogens. Delivery was prompt and bulbs were nicely bubbled-wrap. 100% recommended!"
"2nd time to buy these bulbs. As always powerbulbs delivers them in no time. Excellent comms. As for the bulbs, having them on is like driving in daylight at night. Can't get any safer or confident driving at night with them. No problems with lifespan... Highly recommended product."

OSRAM Night Breaker Plus
The OSRAM Night Breaker Plus is another great headlight bulb from a premium manufacturer,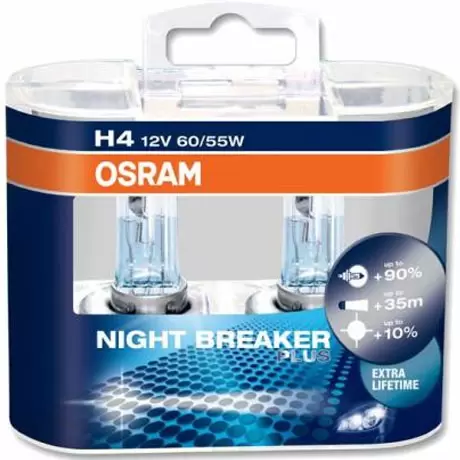 offering a massive amount of light on the road. This performance bulb offers 90% more light on the road than a standard halogen and is fantastic at increasing visibility at night.
This popular car headlight bulb is another impressive product, offering 90% more light on the road, and again with a great life expectancy of 18-24 months.
Check out a couple of customer reviews for the OSRAM Night Breaker Plus bulb:
"I was amazed to discover how much brighter the Night Breaker bulbs were compared to the Sylvania standard bulbs supplied for my Honda Civic. The light were noticeably whiter and my viability markedly improved. A very good purchase indeed."
"I bought the HB4 bulbs for the dipped beams on my Lexus GS car. They have made an amazing difference to night vision and safety, and have taken a lot of the strain out of night driving on unlit country roads. As they are so good, I will be buying the HB3 bulbs for the main beams as well."

So which bulb wins?
As you can see both of the bulbs are great performance products with fantastic longevity. Many of our customers say that OSRAM is the best value bulb but the overall customer favourite is the Philips. However, both are fantastic products with great longevity, so either bulb will offer you increased performance and light on the road.
To conclude, if you buy either product you'll be getting an excellent quality headlight bulb. The choice between the two is really down to your budget and whether you have a preference for a particular manufacturer.
Use the links below to view more information about the bulbs and read some reviews, or add to your basket if you have made your decision; we offer FREE worldwide delivery on all orders and free W5W sidelight bulbs when you spend over £15!

We hope this Philips X-treme Vision vs OSRAM Night Breaker Plus review has been helpful; please feel free to get in touch with us if you need any more information or advice in making your choice.