What bulbs does my car need?
At PowerBulbs we stock a vast array of bulbs to fit a wide range of vehicles. From standard to high performance and halogen to HID – we've got you covered.
Along with all of the different kinds of bulbs, there are also different fittings, depending on your vehicle make and model. A fitting refers to the shape and size of the base of the bulb.
There are a few different ways that you can find out what fitting your car needs for the particular type of bulb you want to purchase. The easiest way to find out what bulbs will fit your car is to use our registration input tool or online bulb finder alongside your vehicle handbook.
You can find bulbs online using our bulb finder
To find out what bulb type, size and fitting you need for your vehicle, take a look at our easy-to-use online bulb finder.
For example, if you were looking to purchase bulbs for a Ford Fiesta 2009 model, you just need to follow these steps:
1. Go to the online bulb finder – you can find it on the PowerBulbs homepage.
2. Select 'Ford' as the make, 'Fiesta' as the model and '2008 – 2012' as the model year.
3. You'll then be taken to a page similar to this that indicates the fittings that you need for each type of light.
4. Double check this information in the vehicle handbook. This will have the most up-to-date guidance for your vehicle.
5. Once you've figured out the fitting, you can then browse by fitting through clicking on the button next to which light you're wanting to replace (check out the image below).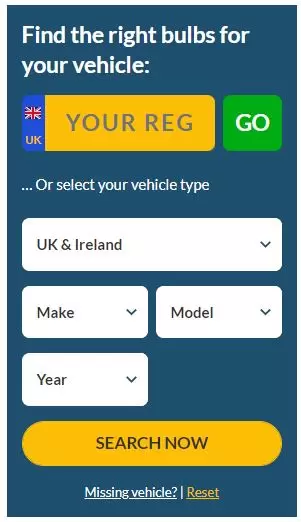 If you're unsure what type of bulb you're looking for, the most commonly replaced bulbs are those used for normal night time driving. These have a few names: dipped beam, low beam, full beam and high beam.
For reference, dipped beam or low beam is the standard setting which helps light up the road ahead when it's dim or dark. The bulbs illuminate the road and allow other drivers to see you – without dazzling other road users in the process.
Full beam or high beam is the brightest setting and projects light upwards and outwards, to allow drivers to see much more when driving in very dark conditions. This beam setting should not be used when other road users are in sight as it can cause dazzling.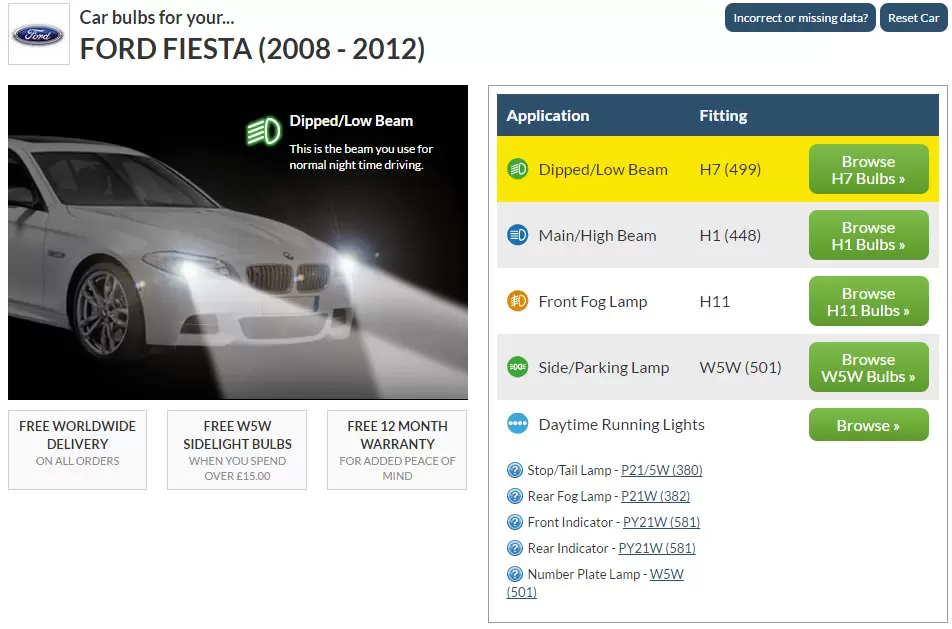 How to find the right bulb fitting using other methods
You can contact your vehicle manufacturer for the bulb fitting information, or simply take a look in your vehicle handbook, which should state all the fittings that your vehicle needs for each type of light.
If you are a bit more hands-on and are able to check your headlights yourself, you can remove the headlight and take a look at the bulb. The fitting information will be stated on the bulb casing e.g., 'H7'. Take a look at this example: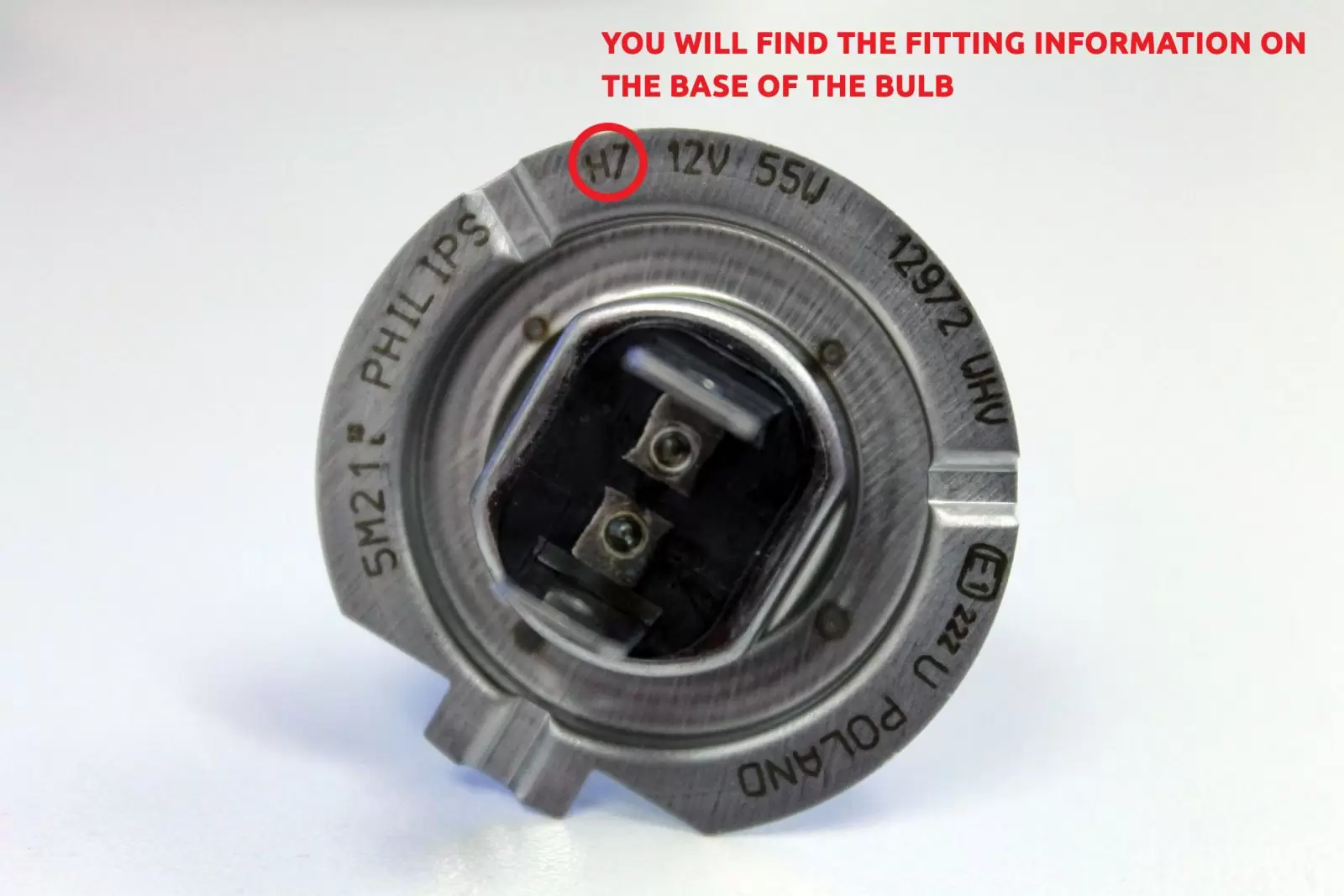 What if you can't find the fitting details for your car?
Unfortunately, we don't always have data for every vehicle, especially as new models are introduced all the time. If your vehicle isn't in our database when you try our online bulb finder tool, then we advise checking your vehicle handbook, contacting the manufacturer for advice or removing the bulb and inspecting the casing for any information.
Where to buy car light bulbs
At PowerBulbs, we stock a comprehensive range of vehicle lighting products from top automotive brands. Once you know what fitting you need, simply search our site, and you will see all the bulbs that we supply in that fitting. Pick your bulbs, place your order and you're all set!
Need more information on the types of headlights available? Check out our complete guide to xenon bulbs to learn more about xenon headlights, how they work and what the pros and cons are of having them.
Did you enjoy this article? Do you have any information that we've missed, or any further questions? You can contact our friendly Customer Support Team online, call us on 01924 334180 or get in touch via our Facebook page.