Xenon HID upgrade bulbs are becoming increasingly popular with drivers seeking optimum performance and styling for their cars. OSRAM have developed Xenarc Cool Blue Intense, a range of xenon HID upgrade bulbs which offer a more distinctive and stylish look in comparison to standard xenon HID bulbs. The up to 6000K colour temperature delivers a crisp, ice white/blue light.
(Please note – due to xenon technology, HID bulbs will achieve their optimum Kelvin rating after a short amount of use. Please allow approximately 20 hours for them to reach their true colour.)

OSRAM Trust Program
Fake OSRAM lamp are an ever-increasing problem in the automotive lighting industry. Some of these counterfeit bulbs can be difficult to spot and, if installed in your vehicle, can cause a number of problems.

To actively tackle this issue, OSRAM have developed the OSRAM Trust Program, which applies to every Xenon HID headlight bulb manufactured after 01/10/2015. The Program allows you to check the authenticity of your bulbs before you install them in your car, giving you peace of mind.
Cool look with high power
OSRAM Xenarc Cool Blue Intense bulbs blend fine design and flawless technology like never before. The range delivers an extra blue and extra high-contrast Xenon light. These bulbs are ideal for tuning specialists and sportive drivers that have a strong leaning towards individual style.
Perfect design, perfect blue
The range produces a cool blue effect through a colour temperature of up to 6000K. This is achieved by utilising a brand new technology: a special charge system is used in place of the conventional coatings found on some bulbs, producing a blue light without the need for a blue coating on the bulb. The clearer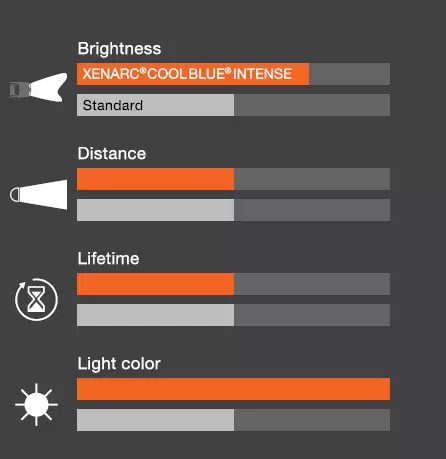 outer casing allows for a more uniform light distribution, enabliong you to see the road ahead with greater clarity.

Good night, night!
Xenarc Cool Blue Intense turns the night into day. The bluish, high-contrast Xenon beam lights up the road ahead. White light is closest to daylight on the spectrum, and so the whiter the light, the more awake and alert you will feel. The stylish light of the range creates a high-attention effect that helps you to be seen by other motorists.
Like all lamps, we recommend changing the OSRAM Xenarc Cool Blue Intense in pairs. Add two to your basket to ensure an evenly matched beam pattern and colour.
OSRAM Approved Partner
Counterfeit bulbs are an increasing problem in the automotive industry. OSRAM are now fighting back against fake lamps, and are helping customers to make the right choice when buying online.
As part of their Approved Partner Programme, we are authorised and recommended by OSRAM. When you shop with us, you're getting the highest quality, genuine products, supplied to us directly by the manufacturer.
You can find out more about OSRAM's Approved Partner Programme here.