Say hello to CIBIÉ!
If you're a truck driver wanting that extra bit of light on the road, or you're simply looking for that extra touch of style during night time driving, our new friends at CIBIÉ have got it covered. We're really excited about their range of LED auxiliary headlamps here at PB HQ. Read on to find out why you should be, too!

A history of CIBIÉ
The CIBIÉ brand is almost a century old, and was established in 1919 by Léon Cibié. His son, Pierre, studied at an engineering school in France, and helped to make CIBIÉ what it is today. One of his greatest achievements was designing the concept of rectangular headlamps, which allowed designers to lower the profile of vehicles and was widely celebrated.
During the last 80 years, the company has over 100 patents, including the headlamp levelling device and the European Lighting Code. They continue to invent rally and technological products today.

Maximum light, maximum style
The CIBIÉ OSCAR auxiliary headlamps come in two sizes: 7 inches and 9 inches. They're used on a wide range of vehicles, from ordinary passenger cars to heavy duty vehicles, and are even commonly seen on rally cars.
Depending on the style you're after, the OSCAR LED lamps can be situated below the bumper in a similar way to DRLs, or can be fitted above using the bracket provided, a style usually seen on rally cars. If you're fitting them above the bumper, there's no need to worry about their lifetime. The lamps are specially designed to withstand rain, corrosion, high temperatures and vibrations up to 6G.

The lamp lowdown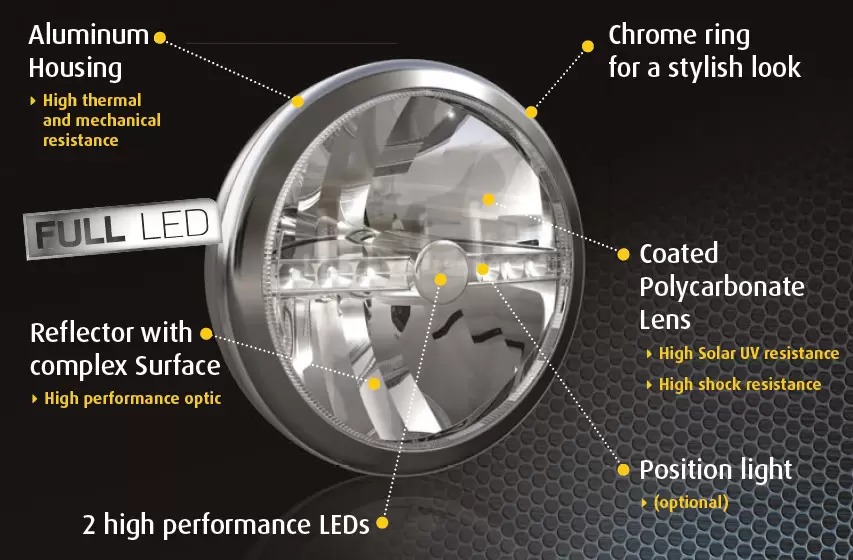 The CIBIÉ OSCAR range utilises LED technology which has many benefits. In comparison to halogen, LED technology uses 70% less energy and has an increased expected lifetime. Vision comfort is improved, thanks to the bright, white light that LEDs produce. Although they have a colour temperature of 6000K, the OSCAR range is fully road legal.
We think that the CIBIÉ OSCAR LED range is the perfect option for the style-conscious wanting a unique look without compromising on performance.

Watch the CIBIÉ video