Celebrating 100 years of Philips automotive lighting
Philips have reached their centurion milestone in automotive lighting. Since 1914, Philips have been at the forefront of innovative lighting. One in every three cars now uses a Philips bulb. Progressing with halogen, Xenon and LED vehicle lighting, they have become the world leader in automotive lighting, and continue to create new and unique products.

Philips have always led with new additions to the lighting department. Whenever there is something new in the world of automotive lighting, you can bet that either Philips have invented it or they'll ensure they become the best at producing it. This can be seen with their consistent improvements with halogen, through to xenon HID and now LED.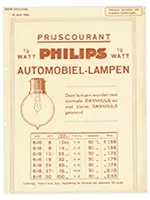 < Within 100 years Philips have gone from this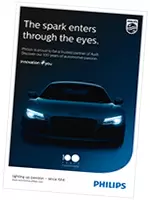 < To this

You can tell that the Philips team take the whole lighting department very seriously and have a strong passion to improving the quality and choice of lighting for all road users around the world. Quotes such as 'We've been lighting up passion for 100 years and will for many more to come', only help to confirm their dedication and confidence in being the best in their field.

Whether you're a showy stylist, safety and performance-conscious, or an economical person, Philips have perfected something for you.

For more information about Philips' big milestone, check out their video below >