And the winners are...

Philips X-treme Vision reclaims its Best Buy title:
Philips X-treme Vision was the clear winner of the Best Buy award this year. Auto Express say the key to its success this year was the ability to reach the 75 metre mark in the test. No rival was able to match this, nor could many match the 50 metre mark too. The Philips X-treme Vision is available in H1, H4 and H7 fittings right here at PowerBulbs.
You'll also benefit from free worldwide delivery and a free 12 month warranty if you purchase X-treme Vision from PowerBulbs.


Philips Vision Plus comes top in the up to 60% category:
Auto Express say it was a close call between Vision Plus and one other bulb in the 'up to 60%' category, but Philips Vision Plus cinched the award, as its light beam was a touch whiter in the tunnel test.
Click here to buy Philips Vision Plus with free worldwide delivery and a free 12 month warranty.

Our thoughts on the test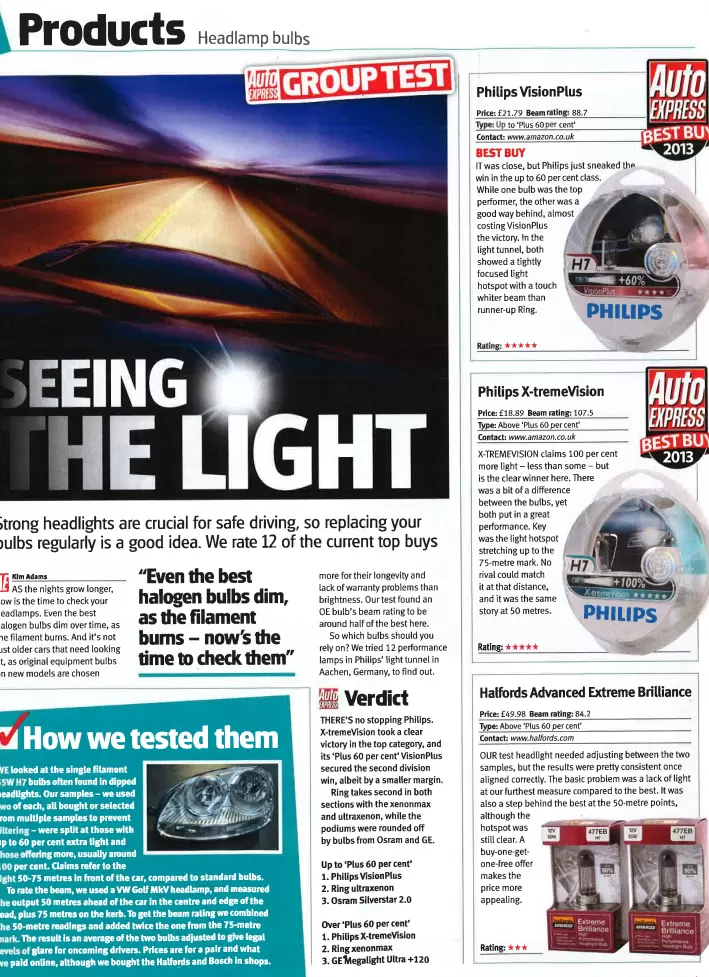 With front runners OSRAM and Philips, the bulbs are manufactured in their own factories in Germany - the same factories that produce the original bulbs for your vehicle. So, you can be assured you're getting the highest quality product, and you know exactly where it's been manufactured. Unfortunately the same guarantee can't be placed on bulbs produced by other companies in the test, as the bulbs will have most likely been outsourced.
The Auto Express Best Buy bulb test is always conducted in either the OSRAM or Philips factory in Germany, and we've heard that this year's test was conducted at Philips.
Every year a fantastic performing bulb takes the title, but what we really want to see is a mention of the products' longevity. It's a key factor that we never get to hear about from the Auto Express test. Unfortunately, even the best of bulbs can sometimes fail prematurely, whatever the reason could be. This is why we offer a 12 month warranty with all of the products we sell.