If you're planning on driving in Europe this summer (or any time for that matter!) we recommend reading this guide so that you can be fully prepared for your journey, no matter where it takes you.
It's important to travel with the right documentation and equipment for your vehicle. If you are stopped by the police, they will most likely need to see that you are driving fully prepared.
Don't worry: we've got it covered! This guide will fill you in on the documents and equipment you will need, as well as the reasons why, so that you're not left feeling baffled as to why you need to carry breathalysers or reflective jackets.

So, let's start with documentation. Be sure to take the following with you on your travels:
Valid full (not provisional) driving licence
Driving licence paper counterpart - if you have a photocard licence
Vehicle registration document (V5c) - the original not a copy
Motor insurance certificate
Passport(s)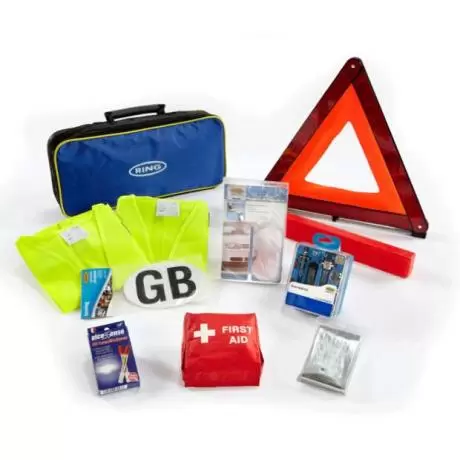 Now for the equipment you will need to carry in your vehicle. Every country has different legal requirements so it's important to check these for each country you will be driving through. You can click here to find a breakdown of what to carry for the 14 most popular countries visited by British drivers.
Some of the most common items to carry can be found in this Ring European travel kit which can be purchased right here at PowerBulbs. Buy this useful kit now.

So what will you be required to carry and why? Here's an overview of the main items you will need for your journey...

GB stickers
If you have number plates that include the GB Euro-symbol you won't need to display a GB sticker in your car, but it's always better to use them just in case. If you travel outside of the EU you will need to display stickers in addition to the logo on your number plates. Now for the technical bit! The sticker is a distinguishing sign for vehicles travelling in International Traffic. It's governed by the 1949 Road Traffic Convention, annexe 4 of which stipulates the size and appearance of the sign - one to three letters in capital latin characters with a minimum height of 80mm (3.1in.) and a stroke width of 10mm (0.4in.). The letters need to be painted in black on a white background of elliptical form with the major axis horizontal.

Reflective jackets
Many European countries require all drivers and visitors to carry reflective jackets. It's always best to carry at least two reflective jackets/waistcoats, one for the driver and one for the passenger. Keep them in the passenger compartment/glove box so they're close to hand. Make sure the jackets you purchase meet EU standards - the pair of jackets included in the Ring European Travel Kit do just that.

Headlights
As you will be driving on the right hand side of the road, you'll need to adjust the beam pattern of your headlights so as to not dazzle oncoming traffic. To change the beam pattern you will either need a converter kit, or your headlights may be adaptable without. Dig out your car manual to find out. Even if you are travelling during the day, it's important to have the converters in place as you can never predict if you'll be caught in traffic or bad weather.
Legally, the requirement is 'to not cause dazzle to oncoming drivers', so as long as you either install converters, or your car can be altered accordingly, you will be covered. A headlight converter kit is included in the Ring European Travel Kit.

Breathalysers (in France)
As of the 1st March 2013, drivers of all vehicles and motorcycles in France must now carry a breathalyser. The breathalyser must be produced showing the French certification mark NF. The single use breathalyser must be valid (they usually have a 12 month validity date) you'll find a set of two breathalysers included in the Ring European Travel Kit.
You may also need a first aid kit and foil blanket. All can be found in the essential European travel kit we have available to buy - shop the Ring European Travel Set now.