What is a Wheel Lock?
A steering wheel lock, also known as an immobiliser, is handy device that can be easily fitted to your vehicle steering wheel to lock it (when not in use) to prevent thieves from stealing your car.
Steering wheel immobilisers are effective because once in place, they physically prevent an individual from being able to drive your vehicle away by stopping the steering wheel from being turned.
They also act as a visible deterrent – anyone walking past your vehicle will be able to see it in place. This should put off opportunistic thieves before they attempt to break in and cause damage to your vehicle.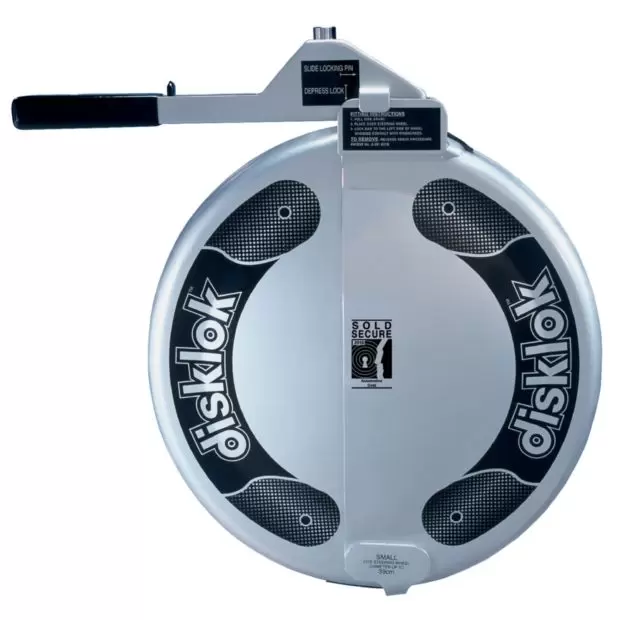 Why Choose Disklok?
Disklok is the UK's strongest steering wheel lock and is the only product in the market that spins when compromised, which blocks the steering wheel from turning, and also helps to prevent any damage to the vehicles own built-in steering system.
Disklok has been leading the steering wheel security market for over 20 years, taking numerous accolades and gaining an established reputation for its durability and resilience from independent, professional security testers. Thanks to its unique design, removing the tough steel case which covers the whole of the wheel is a considerable challenge that would involve a lot of time, determination, and force – not to mention seclusion from onlookers or security cameras.
Despite being exceptionally difficult for thieves to remove, a Disklok is extremely easy for car owners to take off using the keys that come with it. The locking system features anti-pick and anti-drill technology for extra peace of mind, so you can have confidence that the only way your Disklok is coming off is with your own set of keys!
Keyless car theft is on the rise thanks to crafty criminals taking advantage of modern technology to effectively bypass vehicle security systems. There are methods to help prevent this, such as alarm systems, and faraday pouches, covers and cases for key storage. However, one of the very best ways to protect against this type of theft is still through a traditional wheel immobiliser such as Disklok wheel lock.
As well as preventing full vehicle theft, a Disklok wheel lock will also help to inhibit airbag theft and electronic theft which are both on the rise in modern vehicles.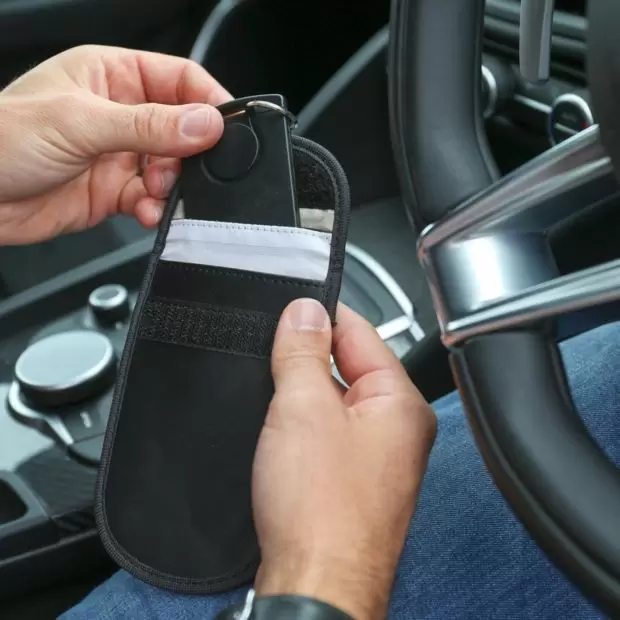 Choosing the Right Disklok
It is important to ensure that you select the correct size Disklok for your vehicle steering wheel in order to get the full level of protection. Thankfully, the range is available in three straightforward variations - small, medium, and large. These accommodate a variety of vehicle types, including cars, vans, multi-purpose vehicles and 4x4s.
Vehicle manufacturers have different sized steering wheels across their range, and sometimes wheel size can differ between versions of the same model depending on the year of manufacture. Therefore, it is advised that you check your steering wheel before you purchase your wheel lock. To do this, you just need to take a measurement from the outside edge to the outside edge across the centre of your steering wheel (essentially, the diameter).
The small size Disklok, which is suitable for most passenger cars will fit steering wheels with a diameter between 35 - 38.9cm. Take a look at the official Disklok fitting guide for full details. If you want to protect the security of your car, the small Disklok steering wheel immobiliser has been expertly developed to reduce the risk of your vehicle being damaged and/or stolen. It is the UK's strongest steering wheel lock that acts as an excellent visual deterrent and is incredibly hard for thieves to remove.
Our friendly Customer Support Team are available to help answer any questions you may have and offer their expert advice - you can visit our Help Centre, contact us online or call us on 01924 334180 for more information.
Please note, we can only ship Disklok wheel locks within the UK, and the product is only suitable for right hand drive vehicles.