The Philips Vision Plus range is a great option if you're looking for a bulb that provides enhanced performance at an affordable price.
High performance at excellent value
If you're after more light on the road at an affordable price, look no further than Philips Vision Plus. The range has been a firm favourite for over a decade, and has an Auto Express Best Buy award under its belt. Vision Plus bulbs produce extra light on the road for a safer and more comfortable drive.
See further
Philips Vision Plus delivers 60% more light on the road than standard. This boost of extra light helps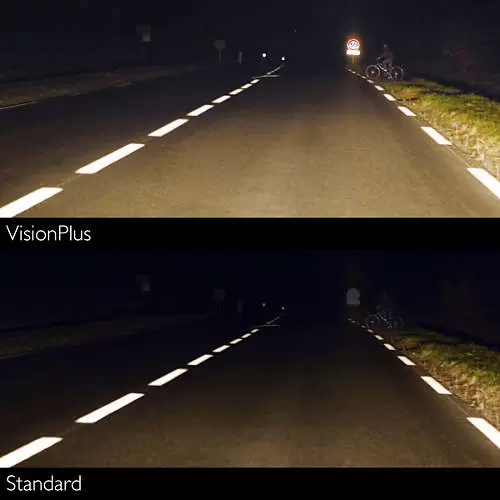 you to spot potential hazards sooner, reducing both your reaction time and your braking distance by up to three metres at 100 km/h. In comparison to a standard bulb, Vision Plus bulbs project 25 metres more light, too.

Powerful and resilient
UV-Quartz glass is stronger than hard glass and can withstand higher temperatures and vibrations, increasing the lifespan of the bulb. As UV-Quartz is tougher, it can also cope with higher pressures inside the bulb, producing a more powerful light on the road.
Philips' anti-UV coating technology prevents harmful ultraviolet rays from penetrating the bulb, prolonging its lifespan and making it the ideal choice for all driving conditions.