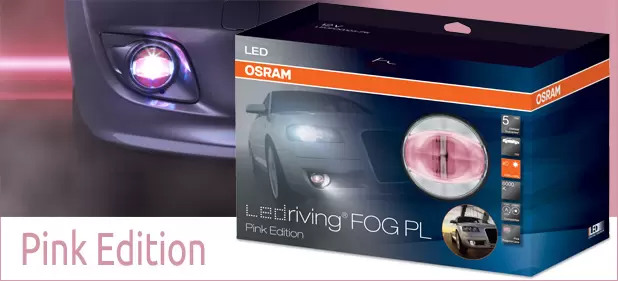 After a stylish, modern look for your car? The OSRAM LEDriving PL FOG Kit may be the perfect choice for you and your vehicle. The kit functions both as a fog lamp and a DRL, and installation couldn't be easier. Plus, the pink lens ornament gives you that extra boost of style on the road.
Styling innovation
The OSRAM LEDriving FOG PL Kit is the newest in styling innovation. OSRAM's new LED fog lamp features an integrated DRL function that incorporates a sophisticated projector lens design. This Xenon-like lens produces a powerful fog light to produce that extra boost of modern style on the road.
Colour up, style up, light up
Give your car the look its always craved with the LEDriving PL FOG Kit. The lamp is designed with a coloured ornament on the projector lens to produce a stylish, striking effect. Choose from a variety of colours to highlight the unmistakable character of your vehicle.
Please note that the coloured ornament provides a subtle hint of style during the day and does not affect the light output or colour of the beam. It is designed to offer a striking effect when the light is not illuminated.

Stylish look, premium quality
Quality and design are combined in the kit to create a premium product. The light beam is pure white - it has a colour temperature of up to 6000K - and offers brilliant illumination of the road ahead.
Thanks to the broad, homogeneous light beam, the field of vision is large, allowing you to spot potential hazards in deteriorating weather conditions. A gravel impact resistant lens provides durable and long-lasting protection.
This kit complies with ECE regulations and is fully road legal. It is also certified according to SAE, CCC and EAC regulations.

Simple installation
Do-it-yourselfers, rejoice! The lamps are designed with easy installation in mind. A new lightweight design uses minimal wiring for simplicity, and a built-in control box makes installation of the kit a breeze.
There's no need to worry about lifetime, either - the service life of the OSRAM LEDriving PL FOG Kit is up to five times longer than that available with conventional halogen fog lamps.
Suitable for many vehicle models, the kit is designed to replace standard 90mm halogen fog lamp applications. Compatible vehicles also include hybrid cars with 12 volt connections, or those with automatic start/stop systems.
To check if your vehicle is compatible with the kit, take a look at OSRAM's handy guide.
Also included in the kit is a standard mounting bracket. Some vehicle models may require an additional bracket. We would recommend that you check OSRAM's application guide to find out if you require an alternative mount.

Installation video