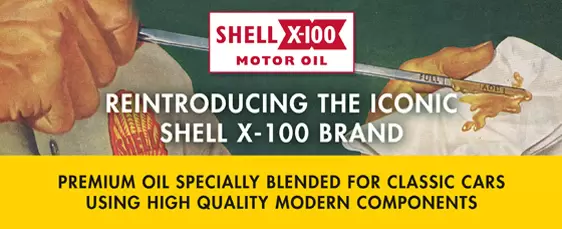 ***Please note – this item can only be shipped within the UK***

Shell Heritage X-100 SAE 30 Classic Motor Oil is a premium oil specially blended using high-quality components and is presented in an attractive, retro-style tin. This low detergent/dispersant monograde lubricant is an ideal choice for:
Any classic and vintage vehicle requiring an SAE 30 oil
1960s/70s Volkswagen air-cooled engines without full flow filters
Lightly loaded diesel engines where the chance of bore glazing is dramatically reduced
Naturally aspirated four stroke petrol and diesel engines and classic gearbox designs
Motorcycles, commercial vehicles and tractors where engine design and tolerances prohibit the use of modern multigrade, high additive level oils

How does it work?
In some modern oils, specialist additives are used to keep the full flow cartridge filters to remove combustion chamber contamination suspended in the oil. This means that early oil filtration - using a mesh gauze of strainer to remove the suspended materials - isn't efficient enough.
The Shell Classic X-100 motor oil range are characterised as low dispersant. The suspended matter simply drops into the sump. Plus, enhanced antifoam properties optimise the performance of your classic gearbox design.

Performance Levels
Physical Characteristics
| | |
| --- | --- |
| Density at 15°C | 0.887 |
| Kinematic Viscosity at 100°C | 11.6 cSt. |
| Kinematic Viscosity at 40°C | 100 cSt. |
| Viscosity Index | 100 |
| Flash Point (Closed) | 215°C |
| Sulphated Ash | 0.5% Wt. |
| Pour Point | -20°C |
| TBN | 4.0mg / KOH / g |

About Shell
Shell produces market leading oils and lubricants globally and is the number one supplier of oil around the world. They pride themselves on being at the forefront of technological insights, bringing you the best lubricants for your vehicle.